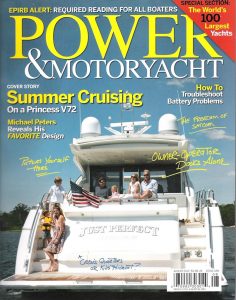 We don't always get around to posting samples of our published work, but hey, a little self-promotion is important. So here's one we did recently.
We were hired for a cover shoot for Power and Motoryacht Magazine last month, right here on Long Island Sound. Barely more than 12 hours after we had hauled out in Newport following our marathon 6-hour, 40-mile round-trip session shooting the Bermuda Race Start, we found ourselves launching at a different boat ramp, in a different state, onto a different body of water, with coffee and freshly cleared media cards in hand. This is normal in June and July, when we pack a disproportionate percentage of our work, and income for the year, into two intense months. But at least this was at home, so we didn't find ourselves having to remember where we were when we woke up!
A high pressure system with blue skies and puffy clouds could wake us from any amount of exhaustion, so we were enthused and ready to go as we met the 72′ Princess off of Greens Ledge Light. We worked with the art director to capture a family lifestyle shot for the cover, had some fun shooting the kids jumping in the water, and then chased the 72-footer across Long Island Sound to get this slow-shutter-speed shot. It was exactly what Allen was going for, and it turned out really well in the article-opening spread. Pick up a copy of the magazine – this scan doesn't do it justice!