Buying your regatta photos, or other on-water photos (cruising, power boats, kiteboarding, etc)
We offer digital photos available for download in jpeg format.
Digital photos can be printed as many times as you'd like at a local lab, an online lab (we recommend mpix.com, but there are many out there that offer good quality archival prints and other products), or even your own printer should you wish to print at home.
We host our online galleries using enterprise software for photography sales, which means we are able to keep our site up-to-date and easy to use, and purchases are secure.
As we're a niche business in a small industry, we wouldn't be here today (after starting our business in 2005) if we weren't committed to 100% customer satisfaction. We have fulfilled many thousands of orders and hope we can fulfill one more for you and put a smile on your face when you download the file.
Pre Order a Discounted Package of Digital Photos
This package is usually $375. But if you pre-order photos, we'll look for you on the race course and get a bunch of action shots for you and your crew to enjoy. They are shareable on social media.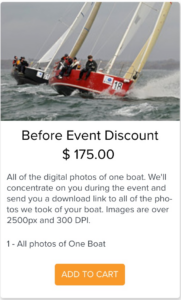 Marine Stock Photography
The boating lifestyle has a certain draw, even to non-boaters. It represents luxury, lifestyle, nature, risk, excitement and adventure, and is just generally pleasing to look at. Corporations in many different industries use PhotoBoat images for eblasts, web banners, corporate calendars, brochures, newsletters, presentations, and more. Please contact PhotoBoat for a quote.
Sailing-industry companies–from sailmakers to spar fabricators to marine architects to apparel companies–regularly use images the PhotoBoat team has taken for promotional purposes. Allen and Daniela's reasonable rates for web use have made their images even more popular.
Please contact PhotoBoat for more information.
Click Here to view some sample stock images in PhotoBoatGallery
Nautical and Seaside Art
We're fortunate to spend many hundreds of hours on the water each year in many different parts of the US, and even some parts of the world. We frequent the best coastal towns with beautiful landscapes and seascapes, and precious wildlife. Sometimes our cameras wander away from the people racing in regattas and towards a more abstract subject, to produce marine art.