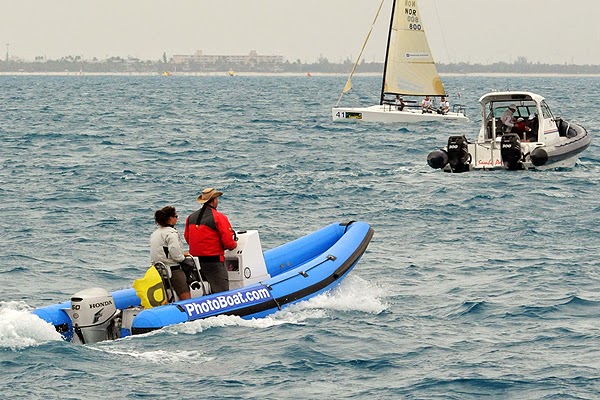 On the job off of Key West. Photo by Mike Noone.
It's time for a change of direction with this blog. Regatta reports are nice, but it's the photographer's perspective that's interesting. I've said it again and again in response to "ooh, what an exciting job" or "what a fun way to do what you love for work". My response is always "it certainly is interesting." It is. We have all sorts of variables to contend with: wind, lack of wind, too much wind, wind from the wrong direction, sun, too much sun, lack of sun, sun from the wrong direction, rain, current, tide, inexperienced race committee, boat maintenance, trailer maintenance, inexperienced sailors, uncooperative regatta organizers, hurricanes, tornados (no joke), etc.
I call them "variables," but they sound more like problems. The thing is- they're conditions we can't control. The more things you can't control in a business, the harder it is to make it succeed. But we've learned how to deal with them, to minimize the negative impact. As we celebrate our 10th year in business this year (in fact, next week marks the ninth anniversary of our first photos taken as PhotoBoat), perhaps it's a good time to take a look back at the lessons we've learned and the techniques we've refined over the years. And maybe it's time to share them.
These lessons and techniques fall into three categories for our ultra-niche business: being in the right place with gear properly protected (on-water strategy), taking and subsequently editing the photo (creating the right product), and figuring out how to make every opportunity you can to get that photo from hard drive to a customer's wall (facilitating sales). Of course, there are a lot more steps to get right in between, but when it comes to success in our business, these are the three we consider a matter of expertise over general photography knowledge.
We hope that mainstream photographers and sailors alike will enjoy it.