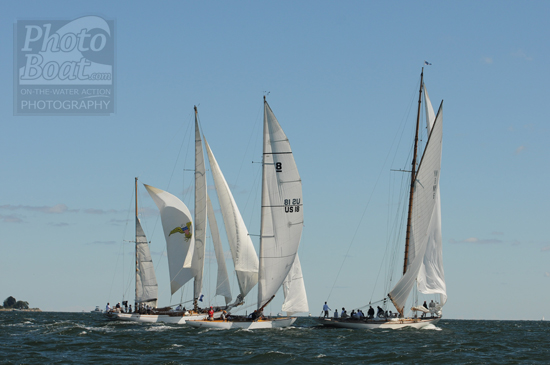 Capturing classics sailing dead downwind can be underwhelming.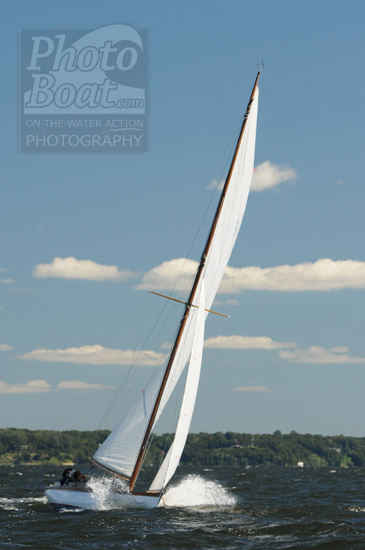 Capturing them an hour later was the right call.
Just like any company, we like to have repeat business. But in many cases, it can be difficult to sell the same product to the same person more than once. When it gets to be the third year in a row that we photograph a certain regatta, in the same place, with the same boats, we can't take sales for granted. That's when our creativity and experience really help. And another asset we do have to help mix things up, which can ironically at other times be the biggest thorn in our heels, is the weather. This year at the IHYC Classic Yacht Regatta, we started the day with a frustrating scenario. It was an extremely photogenic day – North winds, 15-20, clear skies and puffy white clouds. Throw a polarizing filter on, and we photographers are on cloud 9, right? Shoot a few dozen beautiful classic boats coming out of Captain's Harbor and we're in business, right? Not this time–it just wasn't working for us. The classics were heading dead downwind to get out of the harbor, and they couldn't have looked worse for such beautiful yachts. Most could not fill their jibs, or were having problems with other sails that I admittedly don't know the names of. They just didn't have their groove on yet. Because things can change quickly on the water, it takes a lot of patience and self-discipline to decide to wait and photograph them an hour later and about 10 miles away. And it's risky: the wind could die, or the clouds could fill in, ruining the drama or the light. But experience told us that waiting would be the right move–to catch them heading upwind on the Long Island side of the Sound. And it was worth the wait. So this year, with better breeze, a different background, and beautiful blue skies, we were able to create a completely new, unique set of photos of the same boats in the same regatta. See the photos here – they're worth a look!